Hello everybody and welcome to our first Beta newsletter! Covering anything and everything to do with the ongoing Beta for GameMaker Studio 2, from your suggestions and content on the community forums to our ongoing progress and version releases. We're also announcing some competitions with prizes up for grabs to reward our most active testers! Check below for more info.
Before anything else we just want to give a huge thanks to everyone who has submitted bugs so far or contributed to discussion on GameMaker Studio 2. We've already fixed a lot of issues and gained a lot of valuable insights thanks to your efforts.
We recently ran an "Ask us Anything" on the GameMaker subreddit. Me (Shaun), Russell and Mike took your questions and answered as many as we could on anything and everything over a couple of hours. We managed to cover a lot of different stuff there so do check it out!
LESSER KNOWN FEATURES
GMS2 is packed with new features, some big some small. Many of them are direct responses to feedback from GameMaker: Studio 1.x users. Here's a handful of smaller tricks you might not have discovered yet, which you can use in the new software to help speed up your workflow.
Resource searching
Press CTRL+T to search for and open any resource in your project. It's an incredibly useful tool when dealing with very large projects, something which was sometimes found to be a weakness of GameMaker: Studio 1.4. (A full list of different shortcuts is in the manual, there's a lot of cool stuff you might find in there so check it out.)
Folder import
Drag a file or an individual folder into the IDE to import all of those assets and automatically create a resource for each of them in the project. Get all of your art assets into place quickly and easily.
Animated room preview
The floating toolbox that defines and customizes the room editor grid has other uses, by pressing the play button here you can have all sprites and animated tiles play their animations in the room. Use this to quickly prototype living, animated spaces without having to set up a single object or compile the game once.
COMMUNITY SPOTLIGHT
We've been following everybody's feedback, suggestions and content very closely, there's been a lot of awesome stuff and we've decided to hand out some prizes to a stand-out community member every few weeks.
Forum user MaddeMichael has been using a lot of the beta and produced two excellent, highly detailed guides on learning the new camera system in GMS2 and also how to use it start working with 3D. Cameras and views have changed quite a bit from previous iterations of GameMaker so if you're confused on how to start, this might help you out.
As thanks for his valuable efforts we're sending him a GameMaker Studio 2 goody pack! With a T-shirt and various goodies as seen below:
PROJECT SPOTLIGHT
One of our previous closed beta testers known as ENDESGA on twitter has been developing a beautiful project called NYKRA. We believe this may be the first ever commercial game developed solely within GameMaker Studio 2! Please go and give it your support on Kickstarter!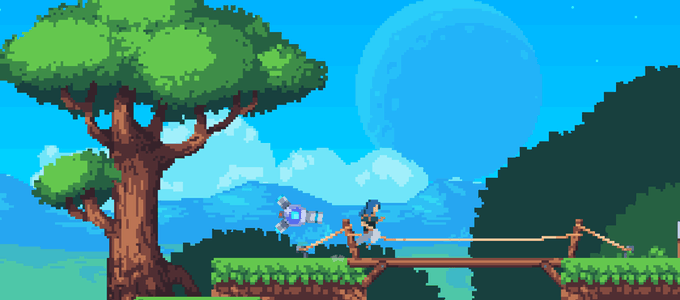 We'll also be sending the developer a goody bag for his awesome work with GMS2.
Want to win a T-Shirt or goody pack? We'll be giving out at least two with each one of these newsletters. Here's how you can be in with a chance:
Send us your Studio 2 project files (email: shaun.spalding@yoyogames.com with the subject "Project Spotlight") or tweet at us and show us what you've been working on. We'll pick a project for the project spotlight with each newsletter.
Submit bugs & feedback, contribute useful guides and resources to the forums and be a part of the community. Each newsletter we'll choose someone for the community spotlight to win a prize also.
Thanks again to all of you taking part in the Beta! Not tried GMS2 yet? Sign up today!
-Shaun Spalding